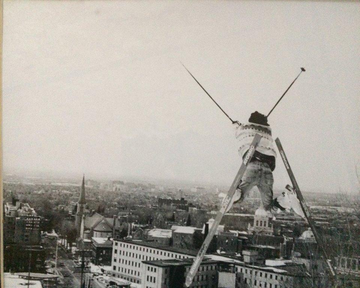 Our mission
Ski Chic-Chocs works in the field of recreational tourism out of a passion for adventure and nature. Our professional team will share their expertise and experience in the field, from start to finish, towards the realization of your dreams. All in an environment where human relations, safety and coexistence with the environment are at the heart of our actions. Promoting healthy outdoor practices with local youth and the community is a core value within the company.
Our vision
We want to have a positive impact on our environment, our community, the members of the Ski Chic-Chocs team, as well as our loyal customers through an innovative business model, a complete offer and the quality of our services. We want to support initiatives that enable the development of our employees' skills, as well as have favorable economic spinoffs on local development.
Our main VALUES
Pleasure
Our main objective in the mountains and at work is the same, to have fun! This is the primary reason behind what we do.
Security
We prioritize the safety of our guests and our team at all times. We want to inspire the safe practice of recreational tourism activities.
Quality
We believe in the value of a quality offer and are on the lookout for innovations in the field. We offer products that make us proud and that we hope will inspire you to go further.
Consideration
We attach great importance to analyzing the social, environmental and economic impact of our actions across all spheres of the company. Consultation, awareness, openness, sustainability and coexistence are at the heart of our approach.
We believe that activities that "last" over time should represent the real limits of what ecosystems can "sustain". This is why we constantly seek to adapt to minimize our negative impacts and ensure that our passage leaves no trace.
OUR HISTORY
Since 2006, Ski Chic-Chocs has specialized in breathtaking mountain adventures. From the spectacular Chic-Choc Mountains in Haute-Gaspésie, to peaks in Western Canada and Japan. Our experience is based on ensuring that our customers receive the pinnacle of quality. Care is dedicated to each unique goal and need from start to finish. We take great pride in associating our clients with the best guides in the industry.
THE ORIGIN
Ski Chic-Chocs is a family business founded by Stéphane Gagnon in 2006 with the goal of offering an unparalleled experience as a mountain and ski guide. Stéphane has been skiing and hiking since a young age in the Quebec Laurentians of the Saint-Sauveur Valley, the Canadian Rockies and various mountain ranges from the East Coast to the Arctic. In 2001, Stéphane helped found the Center d'avalanche, now known as Avalanche Québec, along with Dominic Boucher, other guides from the ACMG and the CAA (Canadian Avalanche Association). During a winter climbing trip in 2001, after 6 brutal weeks of attempting the west face of Cerro Torre, Patagonia, he saw the "guiding light" and was thirsty for real adventure. Today, Stéphane runs Ski Chic-Chocs with his two sons Guillaume and Gabriel in Sainte-Anne-Des-Monts, Quebec, where they have over 15 years of experience.
OUR STANDARDS
Backcountry skiing/snowboarding and snowshoeing require a balance of adrenaline and safety. This is why, every morning, our guides meet and check the weather conditions before departure to assess the stability of the snowpack in order to choose the best area available.
Each of our groups, depending on the activity, respects the ratios of Aventure Écotourisme Québec (AEQ). All our guides are also certified by the Canadian Avalanche Association. Cardiopulmonary resuscitation (CPR) and remote area first aid courses are also required for all our guides.
GUILLAUME GAGNON
STÉPHANE GAGNON
GABRIEL GAGNON
PHILIP DOMINGO
MAURICIO BUSTAMANTE
Alice Royer-Gagné
K2 | KARL SASSEVILLE
Boris Adamkiewicz