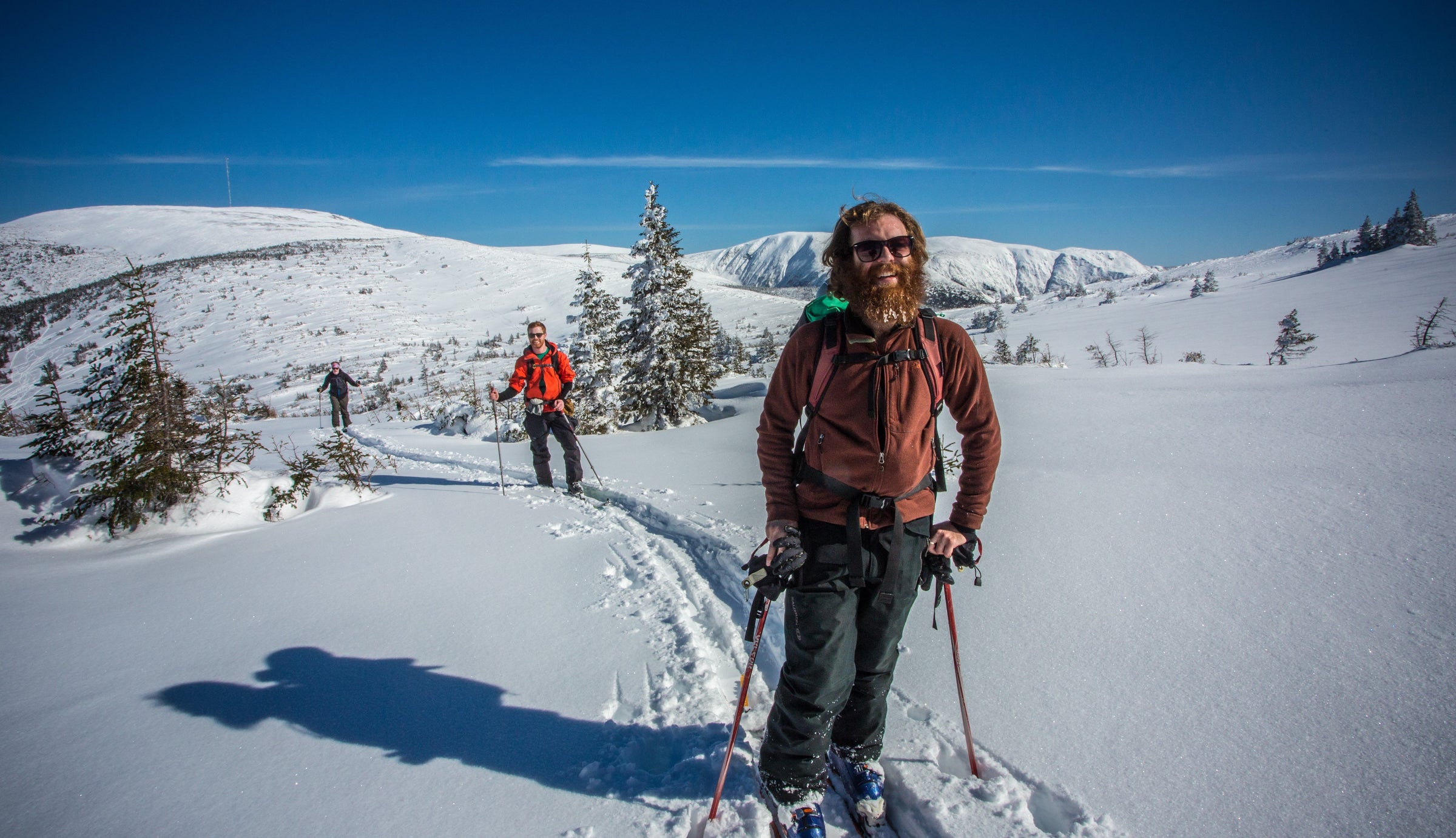 Introduction to backcountry skiing | SEPAQ
LEARN TO USE YOUR SKIS IN THE BACKCOUNTRY
This one-day introduction to ski touring introduces participants to ski touring equipment, mountain travel techniques, avalanche awareness, route finding, navigation, and descent strategies.
GET CONFIDENT!
Participants will walk away confident in their ability to join groups of friends and even lead their own backcountry excursions.

The descents (1 to 2) from 200 to 300 m in altitude are carried out in the various ski areas of the Gaspésie National Park and the Chic-Chocs Wildlife Reserve, accessible by Route 299.

Maximum ratio: 6 clients / Guide
Mixed group
GOOD TO KNOW
The area will be selected based on snow cover, avalanche risk and weather conditions.
From December 27, 2022 to April 10, 2023
All winter: Wednesdays, Fridays, Saturdays and Sundays
Rates (taxes and park access fees not included)
Adult: $149 (guiding only)
Child: $149 (minimum age of 12 if accompanied by an adult and 16 if unaccompanied)
From December 26, 2022 to April 10, 2022. All winter: wednesday, friday and sunday.

Duration: all day, from 8:30 a.m. to 3 p.m. If you rent ski equipment at the Mountain School, arrive at 8:15 a.m. If you have your own equipment, meet the guide at 8:30 a.m. for the start of the activity. The activity ends when the guide takes you back to your vehicle in the parking lot of the ski sector previously selected before the activity.
The descents (1 to 2 during the day) are carried out on the various ski areas of the Gaspésie National Park and the Chic-Chocs Wildlife Reserve.
Intermediate ski resort experience.
Good physical condition.
The ascents (approach varying from 45 minutes to 2 hours) are done using climbing skins fixed under the skis or a divisible board. Initiation on ski touring or split-board only.
You should be prepared for a full day outdoors (there is no shelter or refuge available and lunch is taken outdoors).
Minimum age of 12 years old if accompanied by an adult and 16 years old if unaccompanied.
SÉPAQ high mountain ski equipment (skis, boots, poles, helmet, climbing skins, safety equipment in the event of an avalanche). 10% discount on equipment rental for participants in this activity.
Lunch. Possibility to order lunch boxes at Gîte du Mont-Albert.
Transportation by car between the Discovery and Visitors Center and the activity sites (maximum 15 km)
Access fees to Gaspésie National Park.
Equipment rental :
$84.75/day
10% discount on rental for participants in the "Initiation to high-road skiing" activity. Limited quantities.
Cancellation policy: activities take place at any time, unless the safety of the participants cannot be ensured by the guide (for example, extreme cold after a rain, making all areas too icy to walk in). In case of cancellation of the activity by the guide, the activity will be refunded.